Linda Couture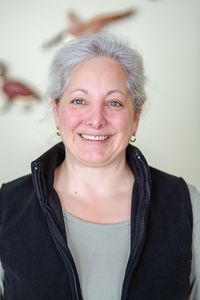 My approach is rather curious, but explains how I was able to get to make intarsia and feel pretty comfortable in this art.
We were a family of 5 children and our parents provided us paper, pencils and board at will. Our family environment was that creativity and openness to the arts were encouraged.
One day, I won a drawing competition for primary schools in my municipality. I received my 'prize' from the Mayor ... I was 5 years old and I was in kindergarten.
Until adulthood, I learned to sew, knit, various crafts, I made stained glass, ceramics and many other forms of creative arts, simply because I love to explore.
As an adult, I had to do a lot of home improvement, by necessity but also by taste. Work with the tools-machinery pleased me well and I was able to develop skills and abilities in this area, especially in finish. Finally, I am a 'creative manual'! So when I discovered intarsia in 2008, I could see myself creating my designs, my own patterns, realize and obviously show them to everyone! I already had the necessary background.
As soon as I started to master the technique, I checked on the internet if there was documentation in French explanatory of the art. There were none more than my early days ... that is what I have found nothing at all. So in addition to wanting to create my own patterns, I gave myself a mandate to share this beautiful art with the Francophonie and I wrote the first manual called 'Intarsia Sculpture', which was launched in early 2013.
Bruce Worthington - Website: www.intarsia.net
I have been an artist my whole life and have created art in most forms.
About 35 years ago I started woodworking and in 1988 did my first Intarsia piece. It has been a passion ever since. I couldn't always find the patterns I wanted so I started designing my own about 20 years ago and selling my patterns in the late nineties.
Along with several friends I helped create an E-book to help people get started in this art and started several groups over the years to increase the interest. On my website I offer all my patterns in hard copy as well as PDF's and will also ship anywhere in the world. I also have a facebook page (Intarsia Patterns by Worthington House) that has my catalog in PDF form for anyone to download and I post previews of upcoming patterns.
If anyone has questions about my patterns I am always willing to provide any help I can.
Diana Thompson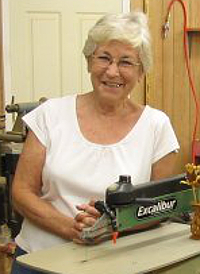 I began scroll sawing about 16 years ago. My husband had a scroll saw and I dragged it out one day after he went to work. Little did I know where it would lead.
I've since written five books on scroll sawing and been published in a number of magazines. A few years into this adventure I found a simple compound pattern and discovered I love cutting it. In my quest for more patterns I found there was hardly none at all and what was out there was rather crude. That wasn't gonna work because girls like "pretty".
I set out to design my own 3-D patterns and found I had knack of it. It's been a long and satisfying career
Sheila Landry and Keith Fenton - Website: www.sheilalandrydesigns.com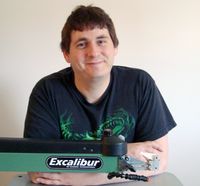 I started designing woodworking and scroll saw patterns in 1997 when I did some painting work for Scott Kochendorfer and Roy King, who were frequent contributors to Creative Woodworks and Crafts magazine. After meeting the group from Creative, I began submitting designs on my own merit and to date have over 125 woodworking projects published through them.
I began my own pattern business shortly afterward, and I have enjoyed much success in providing a great variety of scroll sawing and painting patterns which are available in both PDF format for instant, free delivery, as well as paper patterns which can be sent through the mail.
Around 2011, I partnered up with Keith Fenton, who not only added great dimension to Sheila Landry Designs, but also helped manage and grow our business. Keith and I find since we each have our own unique style of drawing and scrolling, we are able to offer a vast variety of patterns for scrolling ranging from plaques to ornaments to word art and wildlife. Together we work to offer exciting, fresh designs along with excellent customer service.
We hope you come and visit our site. Our Free Patterns & Resources page, we always offer a free pattern for you to sample our work, as well as many free instructional articles and videos. We are here to help you with your questions and offer recommendations and advice.
Homer and Carol Bishop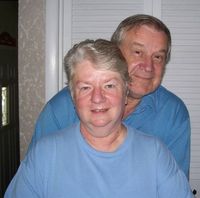 We have been cutting intarsia projects for fifteen years, and designing and selling our own 400+ patterns for over twelve years. Some of our patterns have been featured in the Scroll Saw Magazines around the world, and we are widely known and well respected for developing our own unique method of cutting and assembling intarsia projects.
Our unique method of cutting requires no sanding to make pieces fit and anyone that can follow a line with the scroll saw can cut an intarsia project, first time and every time.
We have developed a clamping system specifically designed to assist you in fitting and gluing your intarsia projects. The clamping system is used to check the fit as the pieces are cut and hold them securely while gluing.
With the development of the first true 3D intarsia patterns we have changed the look of intarsia and how it is displayed and viewed. This is done by making a left and right hand intarsia and then gluing the halves together.
Included with the 3D patterns are templates that guide you with the shaping of these projects. These projects can be set on a table and viewed from all angles.
Homer Bishop, pattern designer and active member of our forum, passed away in October 2018.
Carole Rothman - Website: scrollsawbowls.blogspot.com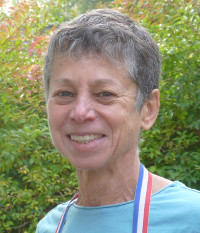 I've always enjoyed working with my hands, and using the scroll saw adds to my list of ways to be creative and also to have fun. I learned to knit, crochet, and sew as a child, and made my own clothing for many years.
As a young adult, I lived in an old house that needed constant repair, and I learned many practical skills, including carpentry. My love of cooking and baking led me to start a small but successful home business, making elaborate cakes for special occasions. My work was creative, and resulted in invitations to teach and to write instructional articles about the cake decorating techniques I developed.
I began using a scroll saw much later, in 2006. Not knowing anyone else who used this tool, I taught myself with the help of good books and magazines. As my skills improved, I started creating my own designs, and was especially fascinated by stacked ring bowls. Since there were no books that clearly explained the process, I decided to write my own, learning and innovating as I went along.
From bowls, I moved on to boxes, always trying to create pieces that were unusual and unique. My crafts background inspired my woodworking, as seen in laminations that look like swags or woven baskets. My cake decorating background is seen in the wooden ribbons, bows and flowers that I once made of sugar paste.
I see my work as creating, teaching, and sharing, which I do though magazine articles, my blog, and YouTube videos. You are welcome to contact me at This email address is being protected from spambots. You need JavaScript enabled to view it. with any questions, or to share photos of your projects. My YouTube channel, scrollergirl, contains over 50 videos, on woodworking, baking, and cake decorating, all the things that I love to do.
Kathy Wise - Website: www.wiseintarsia.com
I first began designing Intarsia Patterns for my father-in-law over 16 years ago. When his customers would ask for a special dog breed or custom intarsia of their pet, he would ask me to create the pattern. I started to market the patterns and found intarsia artists loved my designs. In Fall of 2004, ScrollSaw Woodworking & Crafts (Fox Chapel Publishing) published my first article featuring my Boston Terrier intarsia design and step by step instructions. I have been in every issue since then with over 45 articles to date.
I now have over 550 Intarsia pattern designs along with my three wonderful intarsia books "Intarsia Birds: Woodworking the Wise Way", "Intarsia Woodworking Projects" and "Intarsia Woodworking for Beginners" (also available in German). They are perfect for the woodworker just learning intarsia or for seasoned experts.
"Intarsia Birds: Woodworking the Wise Way" was completely self-published with all the writing, photography, editing, layout and design completed by me. It is my best book yet! Only available at my online store store7626357.ecwid.com. Patterns and books are shipped to Germany and my site also has many downloadable patterns. Check out my site and find some beautiful unique patterns.
Sue Mey - Website: www.scrollsawartist.com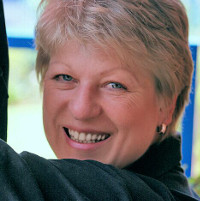 Scroll sawing has been part of my life for more than 21 years, the last nine years as a fulltime occupation. When I initially discovered scroll sawing, the art studio was swiftly converted to a workshop and easels and palettes were put away in favour of power tools. As a pattern designer, my specialty is fretwork although I also create compound-cut, woodcarving, intarsia, segmentation, and portrait-style patterns.
Since 2007 almost 200 of my woodworking projects have been featured in various magazines in South Africa, Europe and USA (notably Scroll Saw Woodworking & Crafts magazine and the now defunct Creative Woodworks & Crafts magazine).
I have had a scroll saw book published with Schiffer Books and my projects have been included in various collaboration pattern books published by Fox Chapel Publishing.
My website currently offers several thousands of downloadable patterns in numerous categories, for all skill levels from 'beginner' to 'advanced'. Also available are: Pattern-making tutorials, Newsletter subscription, Tips & Techniques pages, and a Newsletter archive.
The variety of Free Scroll Saw Patterns on offer is my way of contributing to a genre of art that I am passionate about and which continues to fill me with joy.
In addition check out my YouTube channel for a growing selection of videos. I can be contacted at This email address is being protected from spambots. You need JavaScript enabled to view it. – photos of your finished projects are welcome.
Christopher Blasius - Website: holzmechanik.de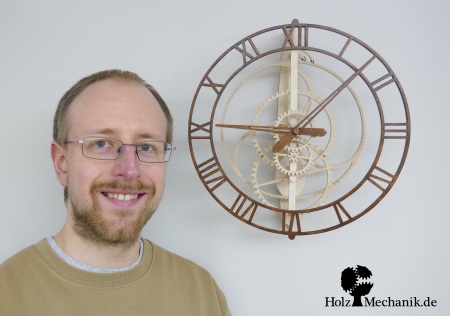 I am designing and building mechanical wooden clocks. You can purchase the plans for my clocks at my website, to build your own clock. For cutting out the components with a scroll saw or a fret saw, all templates can be adhered directly to the wood.
It was always a great joy for me, to design and build new things. Projects with a lot of movement where most enjoying for me and wooden gears where the beginning of this joy. In "real life" I am working as a mechanical designer at a machine manufacturer, where I am developing new machines. So I have combined my personal interests and my professional experience and started designing wooden clocks.
As described at the beginning, a good way to cut the parts is using your scroll saw. If you want to cut them with a CNC machine you can also get with the plans, a dxf file. This makes it even more simple to cut the parts.
If you wish you had a CNC router, maybe my plans of my wooden CNC router "Solidis" are something for you. With this machine you can also cut intarsia and all the other parts that you now cut on your scroll saw. And also a lot more like 3d carvings.
Please visit my website and take a look at my projects.
Danny van Wattingen
I always have been fascinated with woodworking that it nearly got my topic to study for school but due to my health back then I opted for a career in printing and afterpress.
I always was drawing things... doodling away on some scrap piece of paper and somewhere in the loft I still have my handmade book of drawings.
My passion for woodworking came when I got a job in my local hardware store and usually was helping the customers in the drill and saws sections. I have started woodworking seriously in 2003 by buying a lathe... many mushrooms, wands and goblets later I wanted more machinery. As my thoughts focused on other projects and certainly a book from Judy Gale Roberts and woodworking magazines I wanted to do intarsia.
I bought my 1st scroll saw (ryobi) in 2005 and loved the saw, I made the free pattern of the dolphin and from that moment on I've put my attention to my graphical knowledge to the computer by using Adobe Illustrator and in 2007 I made roughly 40 patterns and started selling them... all in pdf and jpg.
People buy my patterns and I send them via E-mail. For more info you can contact me via facebook.com/IntarsiaUK. The rest is history... right now I design more than that I can create and supply the world with cute owls and try to help out wherever I can.